Jeff Johnston: Business Development Manager
Meet Jeff Johnston!
Jeff Johnson is excited to be one of the newest members of the Patti Engineering team. "My career with Patti Engineering is still very young, but it's been a great change for me. I am inspired by the amount of trust that has been put in me by Sam and the company as a whole. Beyond that, I'm most excited about the opportunity to help build the Patti brand and expand the Indianapolis office. The company has a great name and over 30 years of experience, and there's still room to expand our customer list with our expertise in emerging technologies."
Jeff is the Business Development Manager for Patti Engineering's Indianapolis office and has worked with the company for four months. His main responsibilities include managing and retaining relationships with existing clients, as well as meeting potential clients. In addition to creating proposals for new projects and assisting with managing current projects, Jeff has been working with Director of Indiana Operations & Sr. Electrical Engineer John Shipley to develop local growth strategies.
During his short tenure, Jeff has already been involved with some interesting projects. Recently, he has assisted with an RFID pilot plant installation, working with the customer's IT team to implement an RFID inventory tracking system. Jeff is also a part of the team which supports the DigiTek test stands at Stellantis' Indiana plants. Jeff states that his new career with Patti Engineering "has been a great change both professionally and personally," and he looks forward to helping the company become more established in the Indianapolis area.
"Jeff is a great addition to the Patti Engineering team," said CEO of Patti Engineering, Sam Hoff. "He is very well suited for this position, and is already helping us support and expand our customer base in Indiana."
Jeff grew up in Fort Wayne, IN and graduated from Purdue University in 2005 with a Bachelor of Arts in psychology and a minor in management. Jeff is a big sports fan, and avid supporter of the Boilermakers, closely following the football and basketball teams, as well as attending several Purdue games every year. His love of sports is not limited to one arena. He also roots for the Indianapolis Colts, the Cincinnati Reds, and enjoys a good hockey game as well. After graduating from Purdue, Jeff has lived in Minneapolis and Boston, before returning to Indiana to live with his family in the Indianapolis area.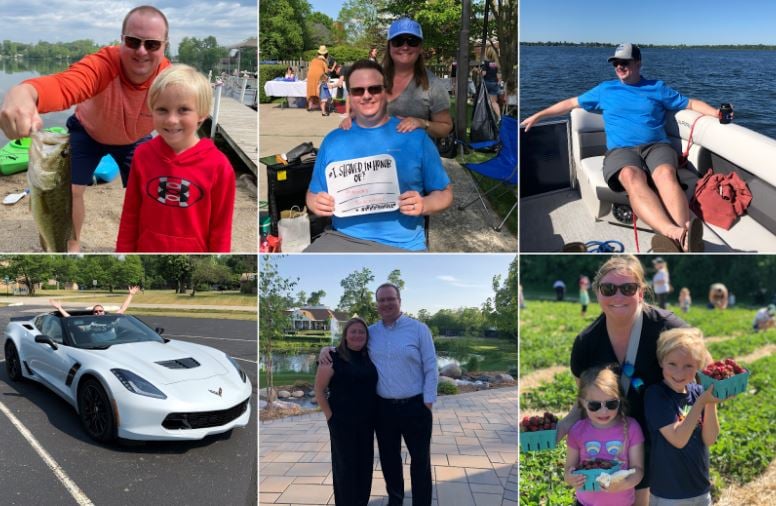 Jeff and his wife Amy have been married for almost nine years. The couple share two young children, Austin (6), and Addison (4), and "good ole boy," Bruce, a 9-year-old Weimaraner. Jeff loves getting outdoors with his family, and often plans memorable family trips and hikes. He enjoys participating in sporting clay shooting, and spending time fishing. He hopes to take a fly-fishing trip with his father and brother in Montana in the future.
Aside from his outdoor hobbies, Jeff is also a car enthusiast and hopes to one day spend time rehabbing a C2 or C3 Chevy Corvette or an International Harvester Scout. He is also a lover of cinema, calling himself "a movie guy," and claims that he "probably quotes movies more often than an adult should!"
When asked what his favorite part of working at Patti Engineering is, Jeff reflects, "Patti Engineering has welcomed me with open arms and helped me feel at home from the very beginning. I'm really excited to continue this journey and to be a part of a great team!"
Related categories:
Culture
Indiana